The 7/8th Grade Quiz Bowl Team WON STATE today in El Reno! Congratulations! We are proud of you!!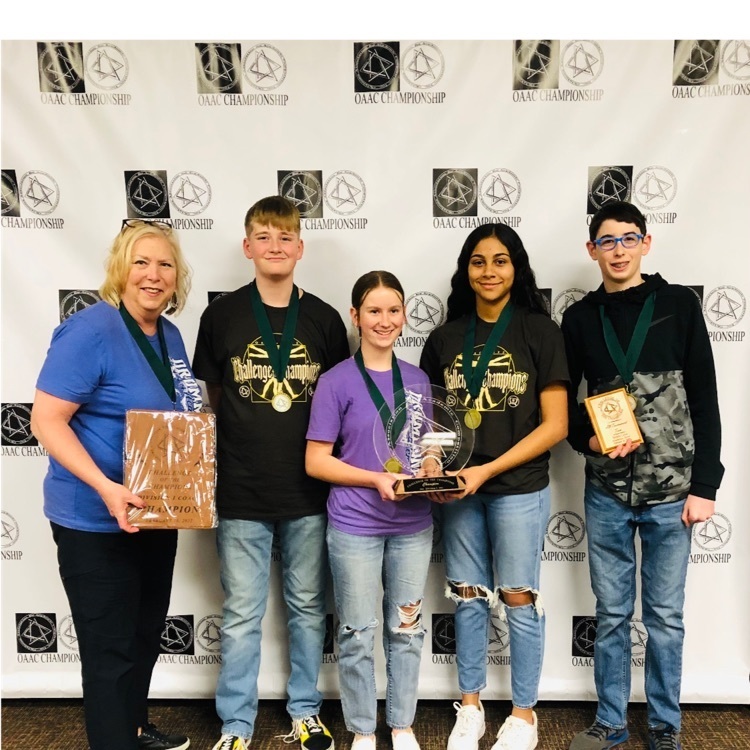 Congratulations to Olivia Boeckman for being re-elected as a State Officer to represent Oklahoma as our Vice President of Community Service!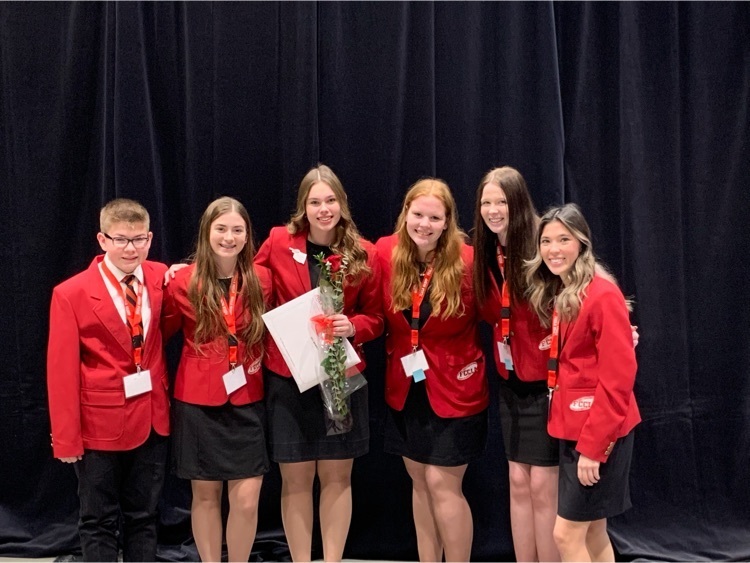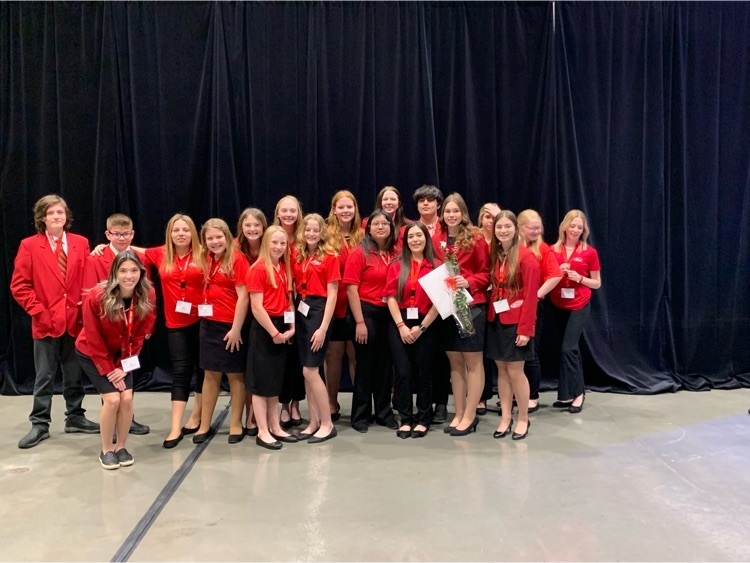 Drummond High School was the Overall Sweepstakes Winner at the SWOSU HS Scholastic Contest! Our athletes also had a great day at the Covington-Douglas track meet with the girls team placing 2nd overall and the boys team placing 4th overall. Congrats to all of you!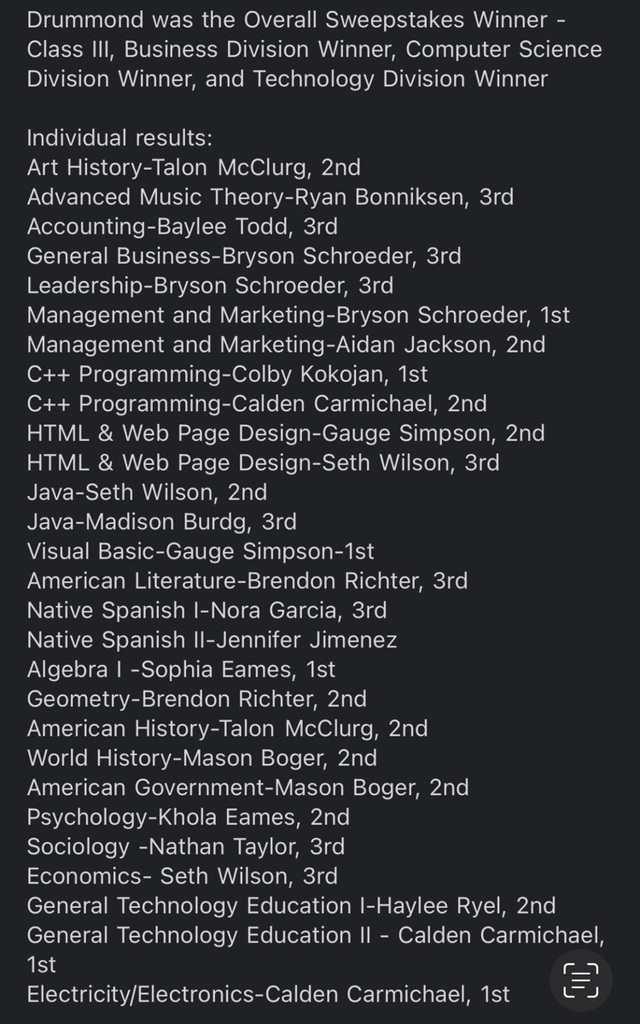 All baseball & softball games have been cancelled today.

HS Baseball & JH/HS Softball games scheduled for today have been canceled due to rain.

MONDAYS TRACK MEET HAS BEEN POSTPONED!!!! Due to the incoming rain on Monday, the JH track meet has been moved to Thursday, March 24th.

Colby Kokojan exhibited the bronze medallion steer at the Oklahoma Youth Expo!! Congratulations, Colby!!

The JH & HS Baseball Games at OBA today have been canceled.

Reminder: Tomorrow is the last day to order a yearbook for the sale price of $40.00. The price will increase to $45.00 after tomorrow.

Reminder: Yearbooks are on sale for $40.00 until Friday. After that, price will increase to $45.00.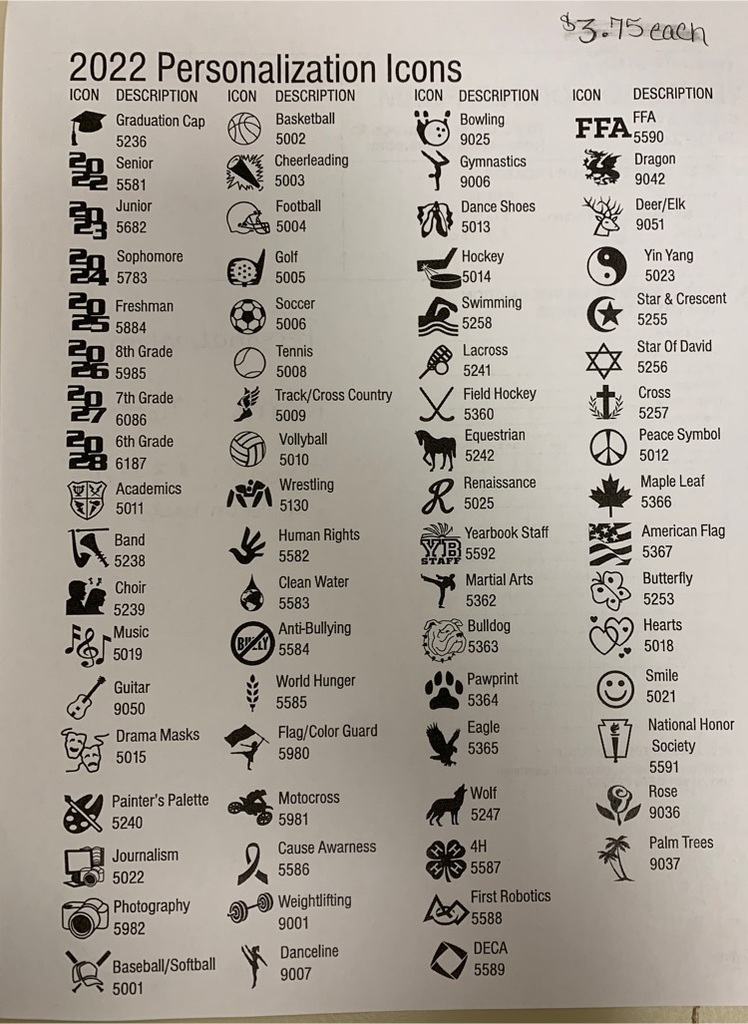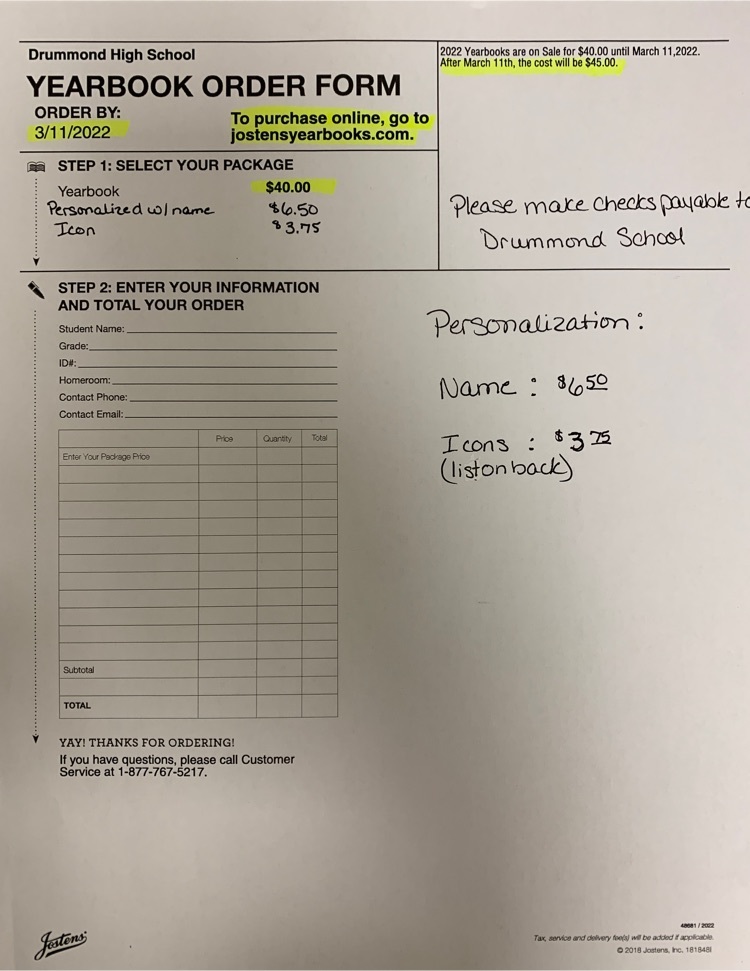 Lexi Mann & Peyton Curry received a letter from George W Bush today!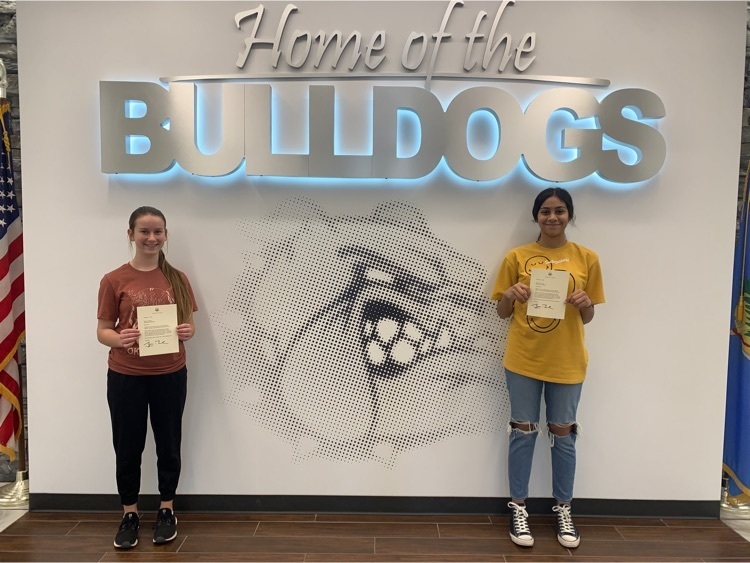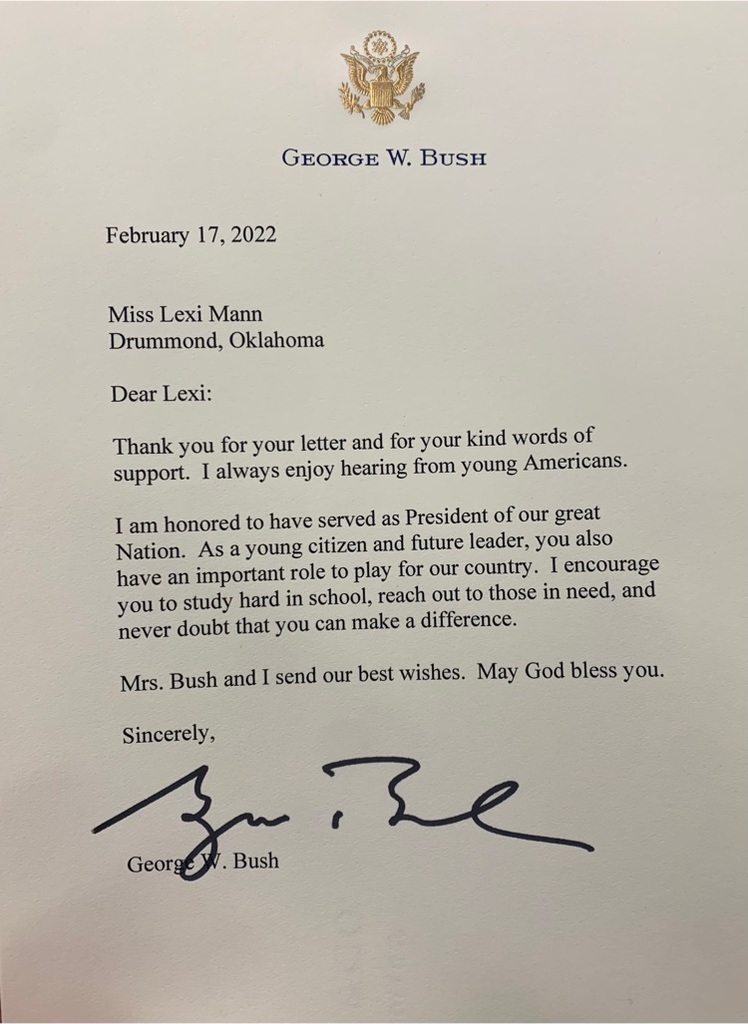 Congratulations to Colby Kokojan on Grand Champion Steer at the Northwest District Livestock Show!

Congratulations to our HS Band members that competed in the District solo contest today. Every one of them received a I and have qualified for STATE!!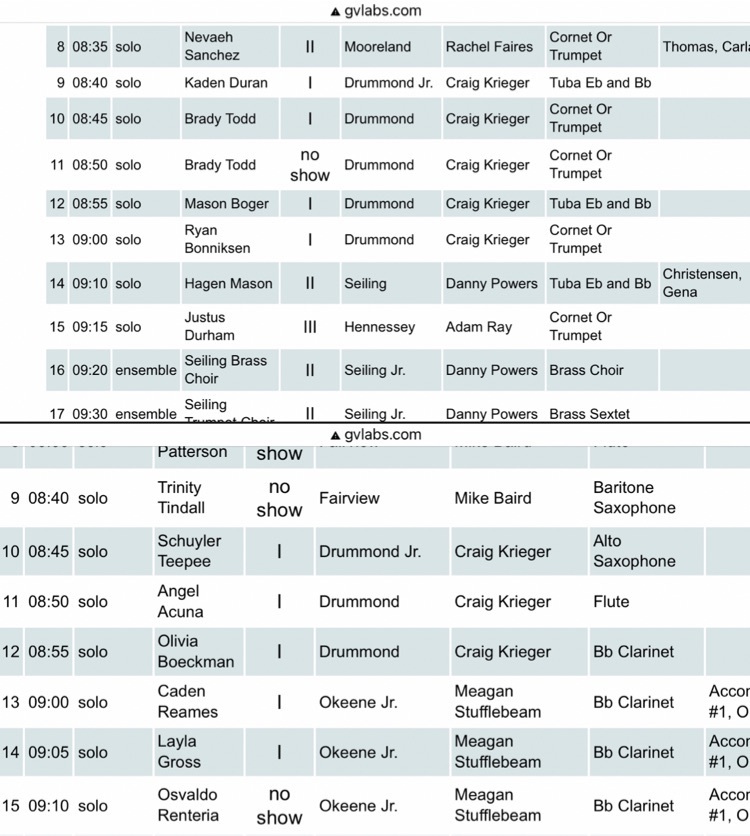 This week is Dr. Seuss Week! These are the dress-up days: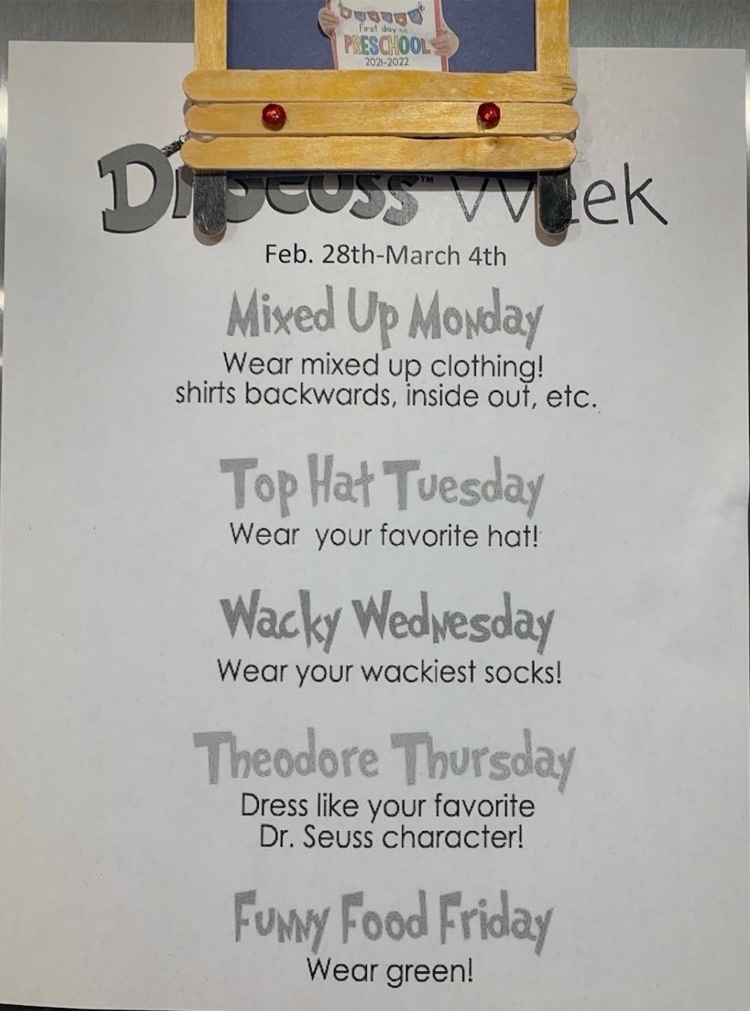 The Book Fair has been extended! You may come and shop for books today, Monday, & Tuesday from 8:00-11:00.

Huge "CONGRATULATIONS!" to the 6-8th grade scholastic team on their success at Crossings Christian Scholastic Meet tonight! We are so proud of your academic achievements. 14 of our students attended the meet, and every student qualified to test at the state scholastic meet in April! (Details on placings, pictures, and names will follow in a post tomorrow.) 😊🏆

REMINDER: Tomorrow is Picture Day!😁 We will be taking group & organization photos. These will include JH & HS BOYS Basketball, Cheer & Cheerios, Quiz Bowl, Band, FFA, FCCLA, FCA, STUCO, Bowling, Honor Society, STEM, 4-H & all students will be taking a class group photo. We will also take individual pictures of the Seniors (cap & gown) & new students that were not here last time.

FFA Dress-up Days (Feb 22-25) Tues- Drive your Tractor to school or wear your favorite tractor/ hat day Wed - American Pride Day Thurs - Camo Day Fri - FFA attire Day.