BOO-GRAM orders are due Tuesday!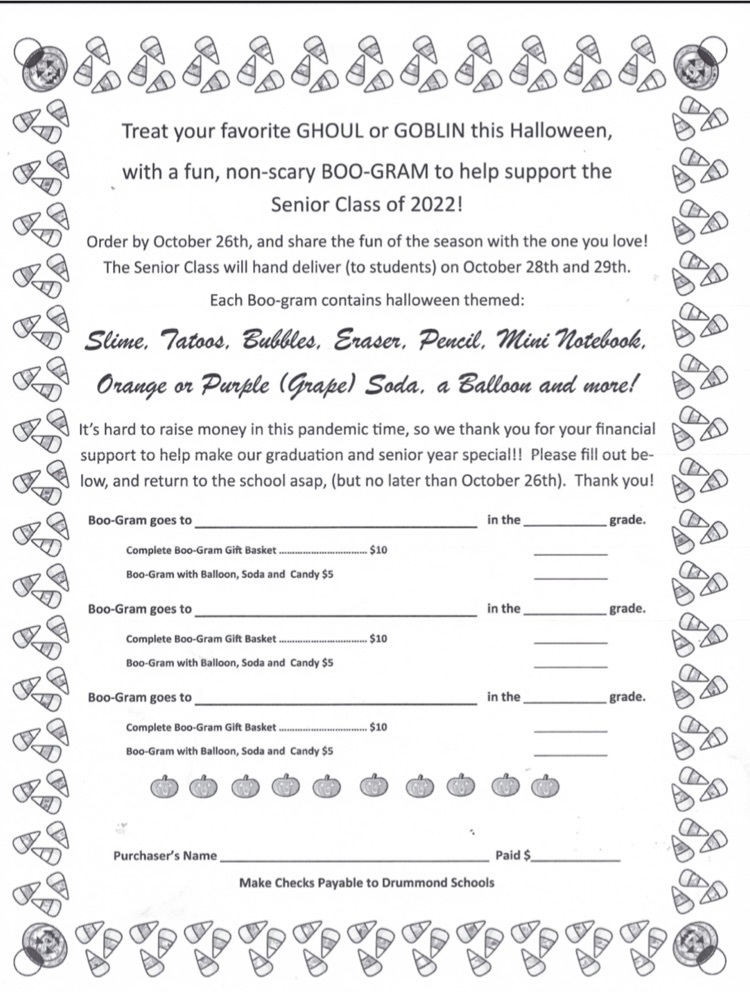 5th/6th Grade Basketball starts Monday!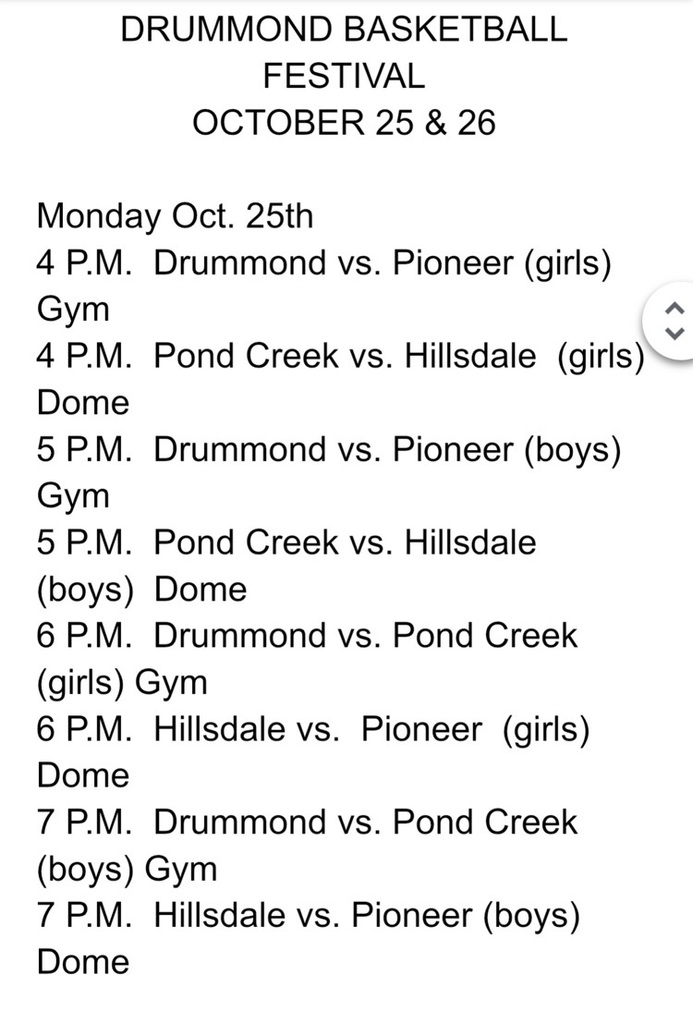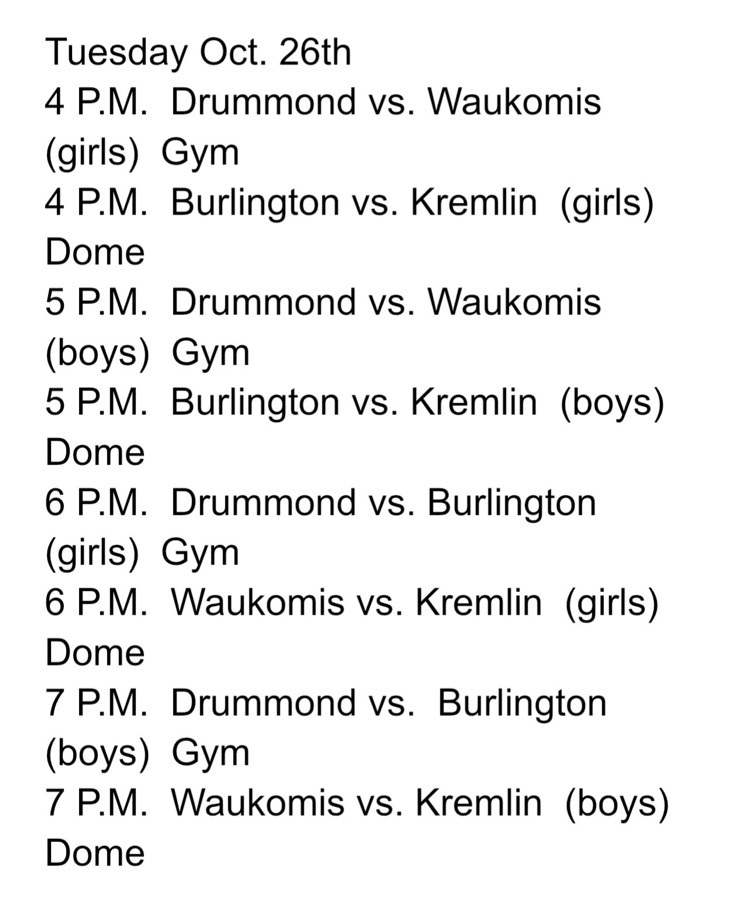 Monday we will be Retake Picture Day. We will also be taking the following Sports Pictures: Baseball, Softball, Track, Cross Country, 5/6, JH & HS Girls Basketball, & 5/6 Boys Basketball. If you have these uniforms at home, please bring them to school on Monday.
Join Drummond Quiz Bowl for dinner and BINGO on November 1st! 🐾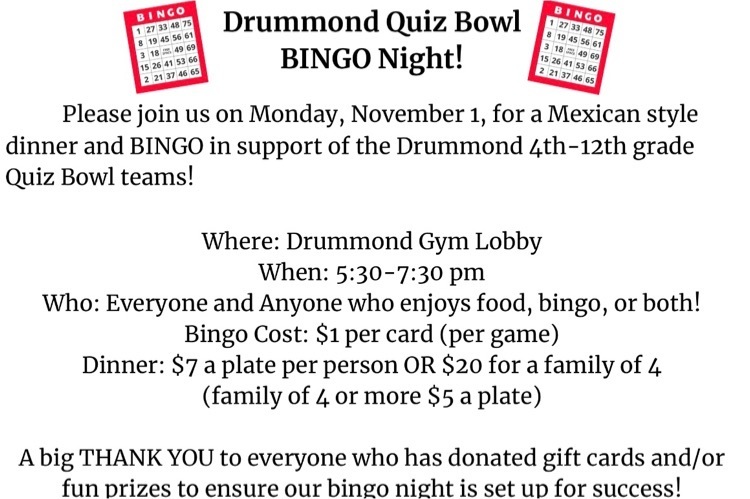 Reminders: PTA Popcorn Day is tomorrow! 🍿 PTA will be filling the candy bags for the carnival Monday night @ 6:30. They would appreciate all the help they can get! 😊 Also, Homecoming shirt orders are due tomorrow. Extra forms are available in the front office. There will be HALLOWEEN MOVIE IN THE PARK at dusk tomorrow night! Thank you!!

There will be a Scholastic Meet in Fairview on Tuesday, October 26, 2021. If your child is attending, please send money for concession or pack a snack. The bus will leave during 7th hour & they plan to return between 7:30-7:45.


Picture Days coming soon!! On Oct 25th, we will be taking Fall Sports pictures & Retakes. On Oct 26th, we will take Organization group pictures.

School Carnival is October 29th!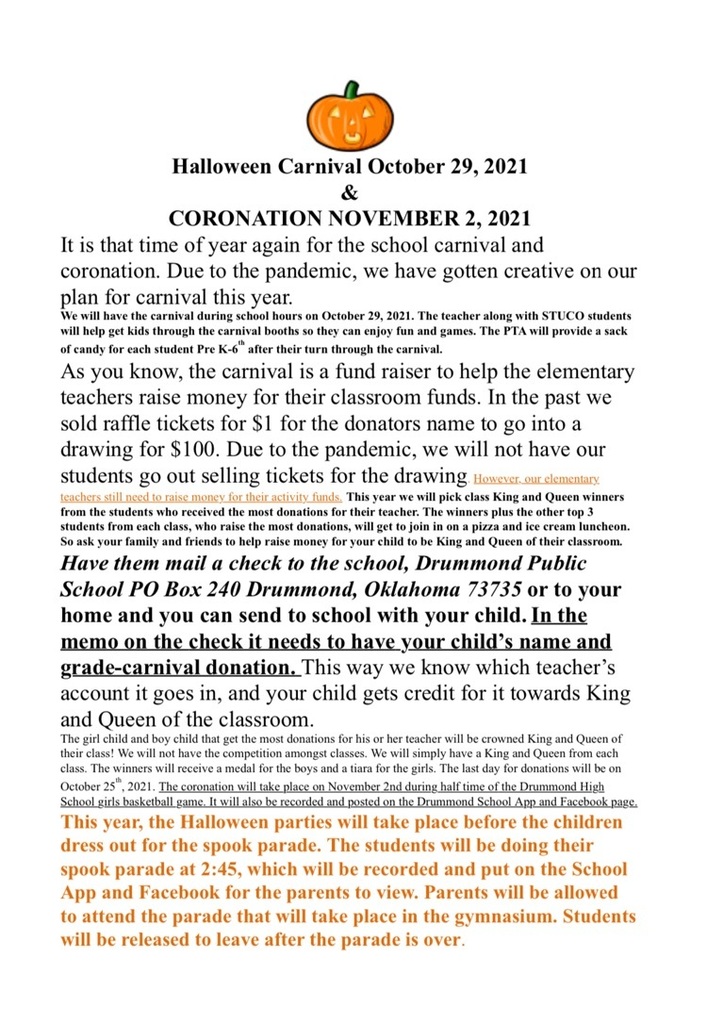 Schedule for high school basketball scrimmages. Girls: October 19th-Okarche (Away) 4pm October 21st-Enid (Away) 3:30pm October 28th- Crescent (Home) 4pm-Parent meeting after scrimmage Boys: October 18th-Okarche (Home) 1:30pm (Junior high will scrimmage first then high school) October 22nd-Union City (Home) TBA October 23rd- Enid (Home) 9am October 28th- Oilton (Away) 4:30pm

PTA is providing candy for the School Carnival this year. If you'd like to help, they would appreciate donations of individually wrapped candy! Thank you!!

Homecoming is November 12th. T-Shirt order forms have been sent home with students & extra forms are available in the office.
Congratulations to the Drummond High School Quiz Bowl team for winning their District Tournament tonight! Keep up the good work!

REMINDER: Fall Break Basketball Camp is on Wednesday Oct 13th. 1st-4th grade from 8:30-11:30. 5th-8th grade from 12:30-3:00. Cost is $30.00 per player.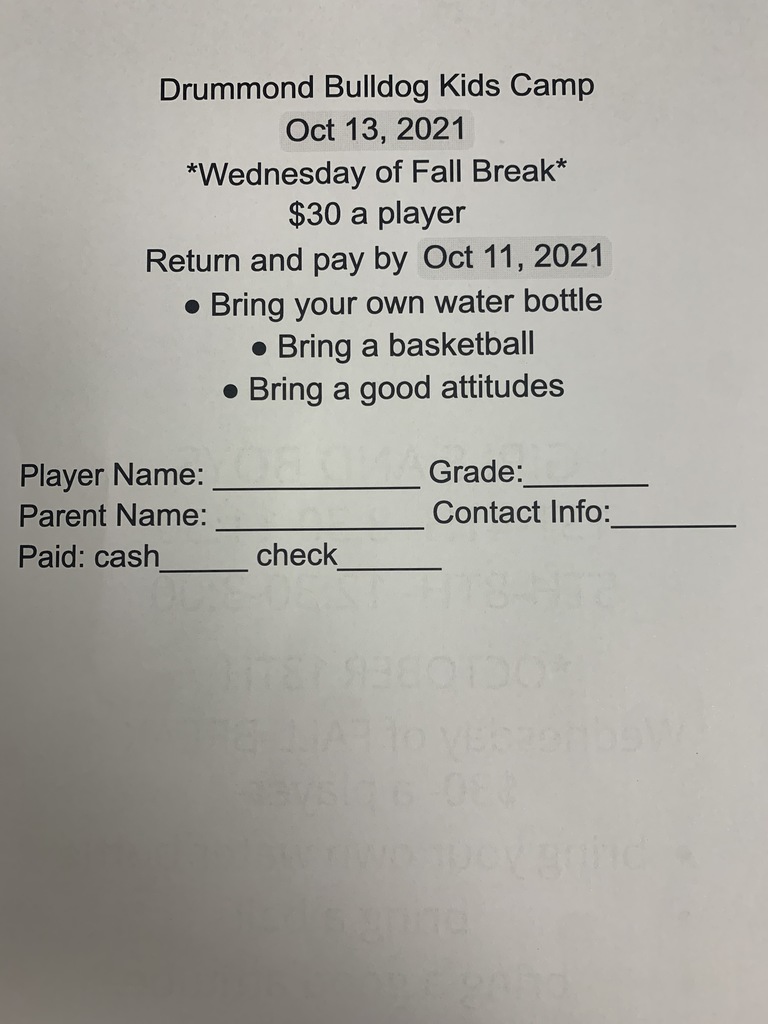 FCCLA Canned Food Drive Members will be collecting food items in Drummond on October 12th. If you wish to donate, please leave your items on the front porch to be picked up. Thank you for your support!

Drummond Day is happening this Saturday October 9th! Come join us for a day of fun and help us raise money for our city playground! There will be a carshow, bouncehouses, crazy train, food, tractor pulls and vendors! Check out the Drummond Days Facebook Page for more information!

BASKETBALL SEASON IS HERE!!!! There is still a lot of work to be done!! Coach K and Coach Vestal are hosting a skills camp on October 13th during fall break!! We hope to see you there!!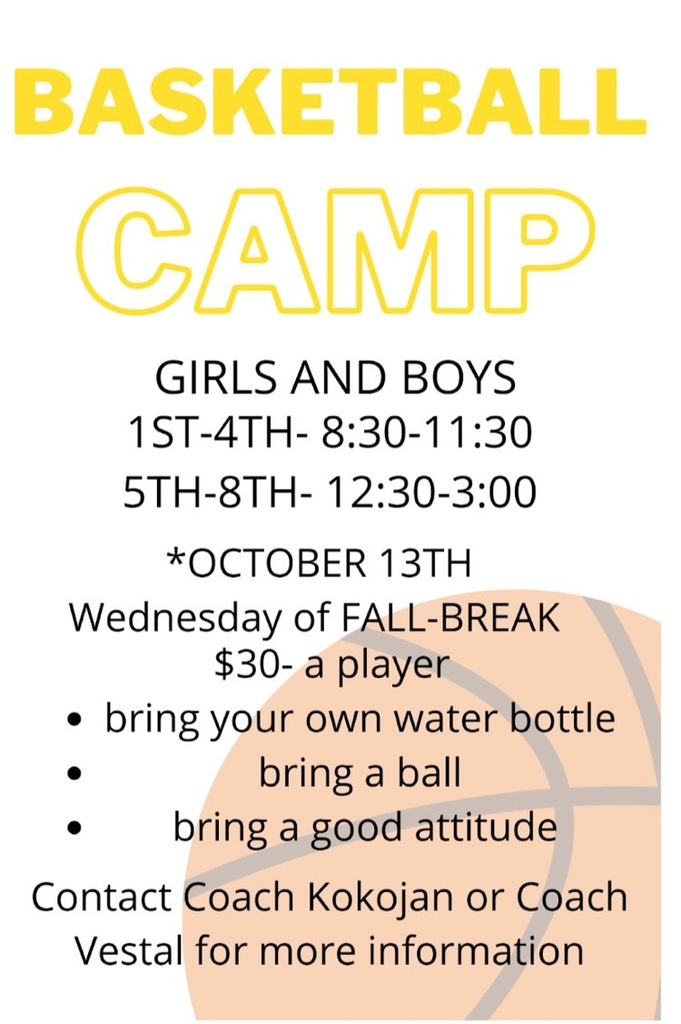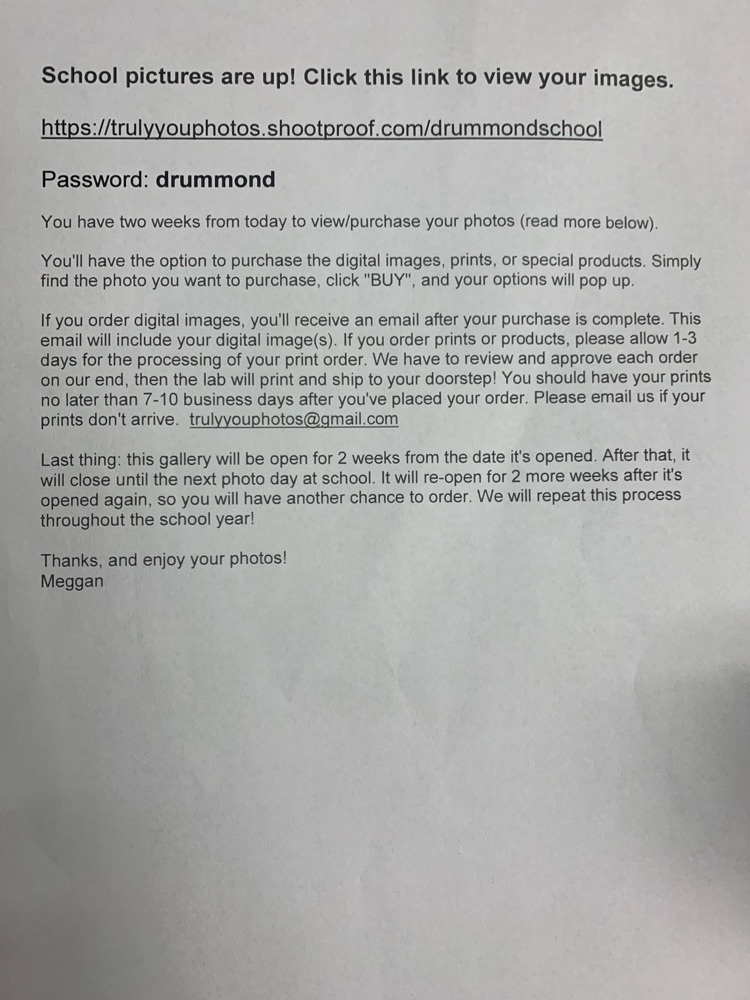 FCCLA is hosting a Socktober Drive through the month of October. Items will be donated to foster children in Oklahoma. The most needed items are shoes in all sizes & infant, toddler, women and men's socks, but any donation from the list is greatly appreciated!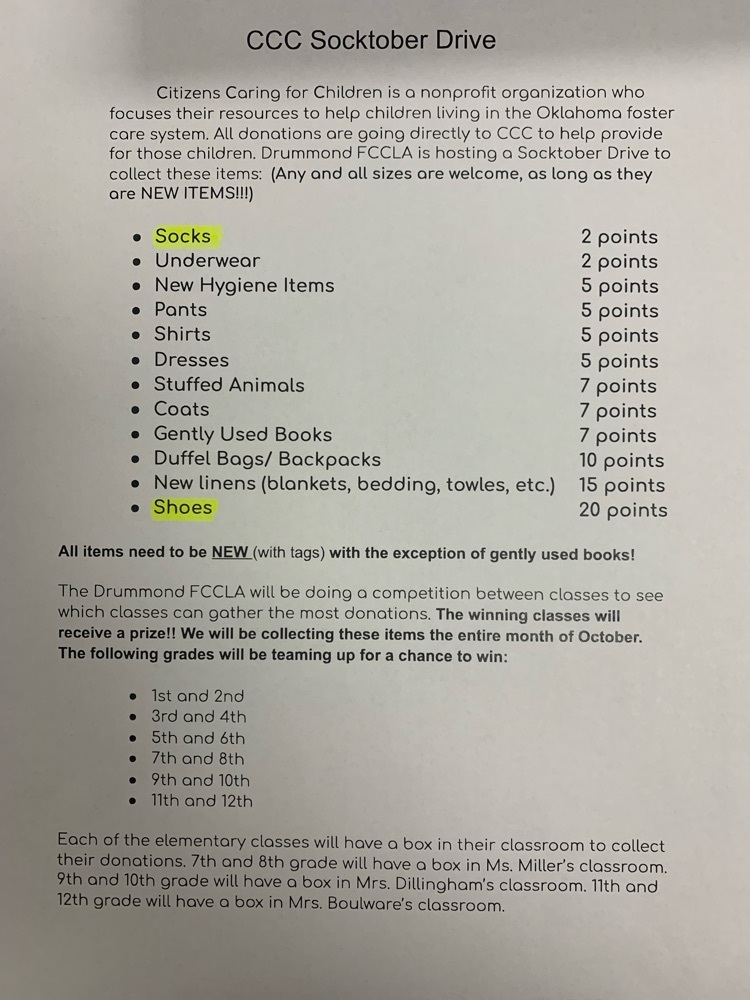 The elementary cross country meet is still on for today! Be prepared if participating to get muddy!