Back to school information
Don't forget about open house tomorrow night for all grades from 5-7:30! There will also be Kona Ice snow cones in front of the school! Those prices start at $3 and go up to $6. We hope to see you tomorrow evening!
High School Girls Softball: Skeltur Conference Tournament Bracket 8/13 - 14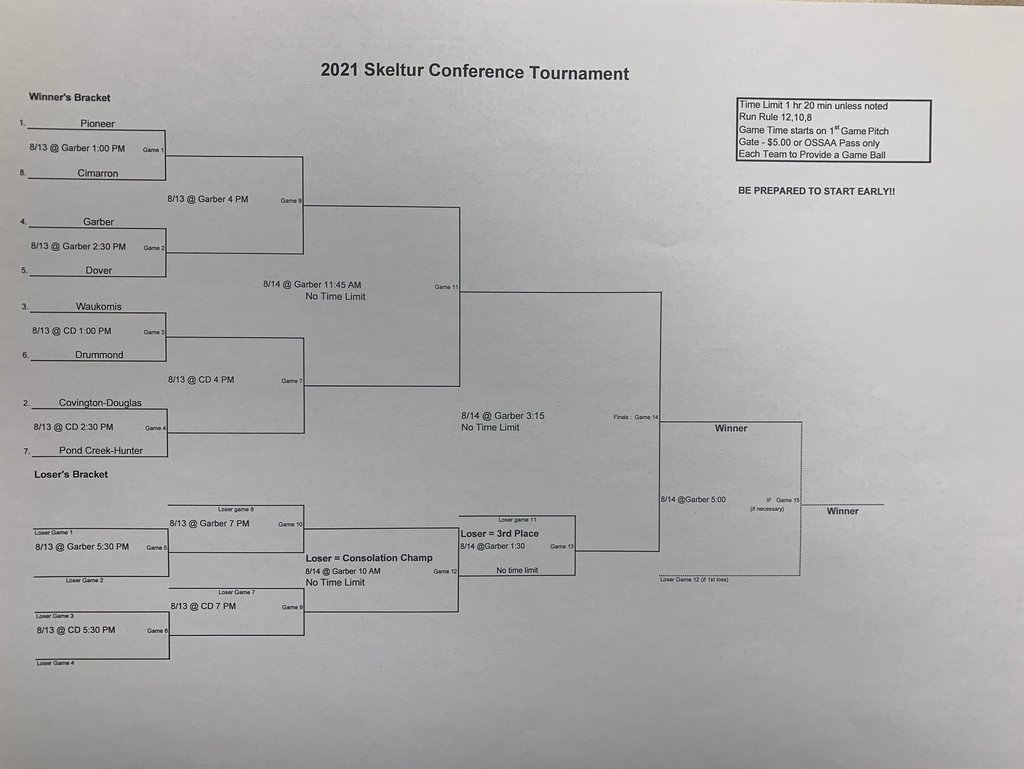 REMINDER: We will have Open House on Monday, August 9th from 5:00-7:30. We hope to see you there!

JH Baseball will have practice Friday, July 30th from 7:30pm-9:00pm. Athletes must have a physical before practicing. Forms are available at the front office Mon-Thurs from 8:00-3:00.

If you ordered a backpack, they will be available for pickup in the front office Mon-Thurs from 8:00-2:00 and at open house on Mon, Aug 9th from 5:00-7:00.

The HS softball parent meeting has been moved to Monday, July 26th at 6:30pm in the gym lobby. If you cannot attend please contact Coach Boyd via email at
mboyd@drummond.k12.ok.us
to make arrangements to get the information. Thank you!

Attention JH softball players and parents. First practice will be next Wednesday, July 28th at 6pm at the softball field. Please wear softball pants and bring plenty of water. Every player will need a sports physical before they can practice. If you need sports physical papers they can be picked up in the front office of the school. Coach K is the new JH softball coach and is very excited and looking forward to a great year. If you have any questions feel free to ask. More information will be provided at the first practice. There is also a Group Me set for the JH softball parents. If you are not already added please add your self to the group. The Group Me is Drummond JH Softball. Thank you.

First day of school will be August 11, 2021. School starts at 8:15 and ends at 3:15.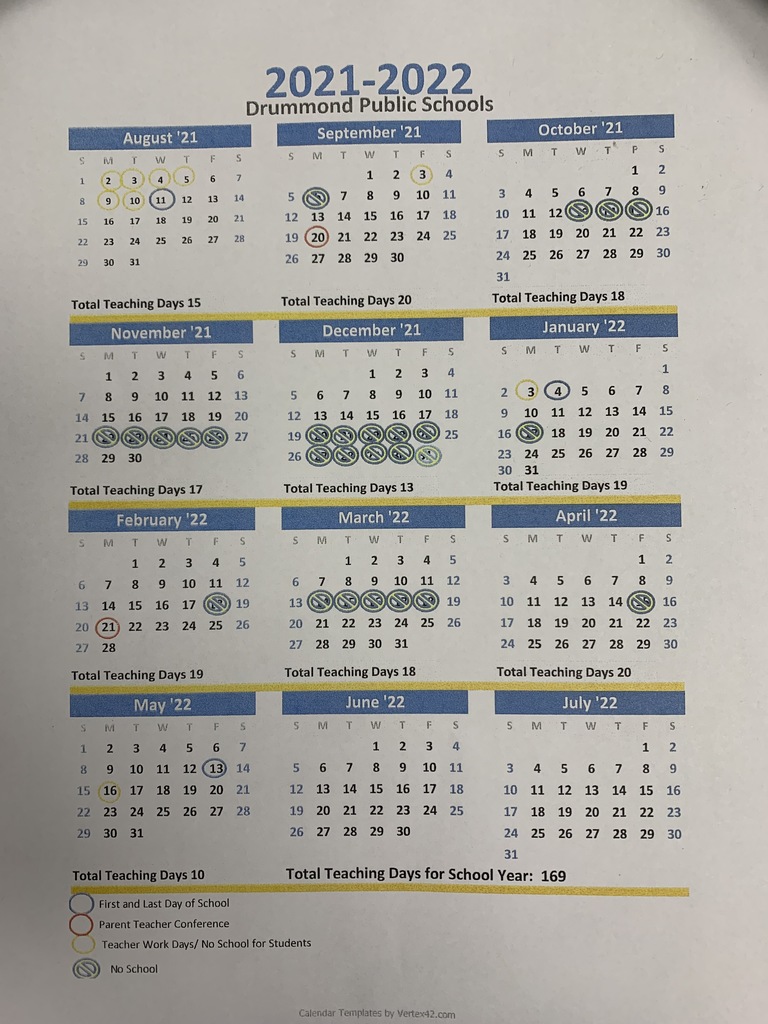 On July 19th high school cross country practice will begin from 9am-10am! We will go Monday through Thursday! August 2nd practice schedule will have to change! Bring lots of water and make sure physicals have been turned in! Parent meeting @ 5:30pm Monday, July 19th in the gym entrance!

Starting July 19th, HS softball will practice 7:30am-11:00am on Monday, Tuesday. And Thursday. The first part will be strength and conditioning like we have been doing, and then to the field after that. Practice will end at 11am. Starting August 2nd practice schedule will change. New schedule will be posted here. Please bring bug spray and water. Softball pants are required. Sports physical is also required. There will be a very short parent meeting Thursday July 22nd at 7pm in the gym lobby. Please come in the back door.
5th Grade School Supply List 2021-22 (Please share with other 5th grade parents) 1. Large zippered pencil pouch (any color) 2. Lg pack mechanical pencils 3. 2+ block erasers 4. 2 black Sharpie markers 5. Ruler in/cm 6. Scissors - student size (7") 7. 4 glue sticks 8. 2 PLASTIC folders - must have prongs and pockets (any color) 9. 1 -20 count (or larger) pack of sheet protectors 10. 1- pack of 5 notebook dividers 11. 2+ Clorox wipes 12. 3 pack Tissues 13. 1+ Germx 14. Computer mouse - optional **Items in the following links are suggestions. Color, quantity, & brand can vary, etc. Walmart Link:
https://www.walmart.com/lists/shared/WL/a966ee99-5bf1-40da-b6c4-7cac14e888a9
Amazon Link:
https://www.amazon.com/hz/wishlist/ls/34YKTV0MLPHYG?ref_=wl_share

Just a reminder that all 7th-12th grade athletes will need a sports physical. The sports physical is needed before they can start practice. Sport physical forms can be picked up at the school Monday-Thursday 8am-3pm.
High school baseball practice begins Thursday, July 15 at 5:30 pm followed by a parent meeting at 7:30. A practice schedule will also be handed out for the remainder of the summer. Friday practice will be at 10:00 am. Players will need to have physicals in order to practice.

Update to the High School softball schedule: We will play OBA at Government Springs instead of Kellet on Aug 9th. With Kellet Park having some field issues, we are moving the August 9th Conference Showcase to Government Springs Park in Enid. Some game times have be en moved to accommodate using 2 fields. Cherokee Strip vs Skeltur Conference Showcase August 9th, 2021 @ Government Springs Noon: Medford vs Dover (North) Okeene vs PC-H (South) 2:00pm: Waynoka vs Cimarron (North) Drummond vs OBA (South) 4:00pm: Cherokee vs Garber (North) Ringwood vs C-D (South) 6:00pm: Waukomis vs Timberlake (North) Pioneer vs Kremlin (South) $4 for Adults $2 for Students Make sure to add to your schedule for 2021

Just a reminder that JH summer commitment starts tomorrow July 7th through August 4th. Monday's and Wednesday's 7:30-8:30am.

Coaches and athletes may not use school facilities from June 28th - July 4th! Summer commitment will resume July 5@ 7:30 AM. If you plan on PLAYING softball, Coach Boyd STRONGLY encourages you to start attending, if you haven't already been attending, on July 5th. :)

Correction to fast pitch softball schedule: The September 14th game with Timberlake has been moved to September 2nd at Timberlake with JH starting first at 4:30pm.
Hello Bulldog 9th-12th grade parent(s)/guardian(s) 🤗 This is a friendly reminder to your students! Mrs. Boulware and Ms. Miller both offer similar exemptions for students who attend Shakespeare in the park! This is FREE admission. We hope to see you there!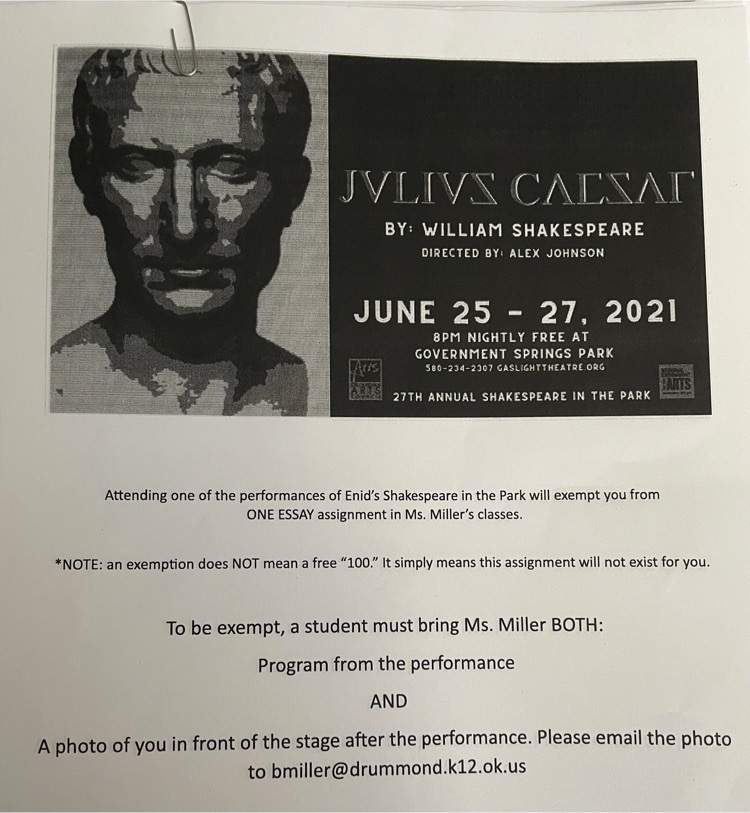 The DHS Trivia Tournament was a success!!! It was such a fun turnout. 🤗 Thank you, thank you, THANK YOU to everyone involved helping or playing! Trivia Auts won in the final game against the Old Dawgs for the Championship Title! If you missed out today… NO WORRIES because word is that come October we will be hosting another! 🎉 Truly such a successful day!