Homecoming 2020 shirts. YS to AXL $13. XXL to XXXXL $16. Orders due by 9am on November 20th. No late orders will be accepted. Thank you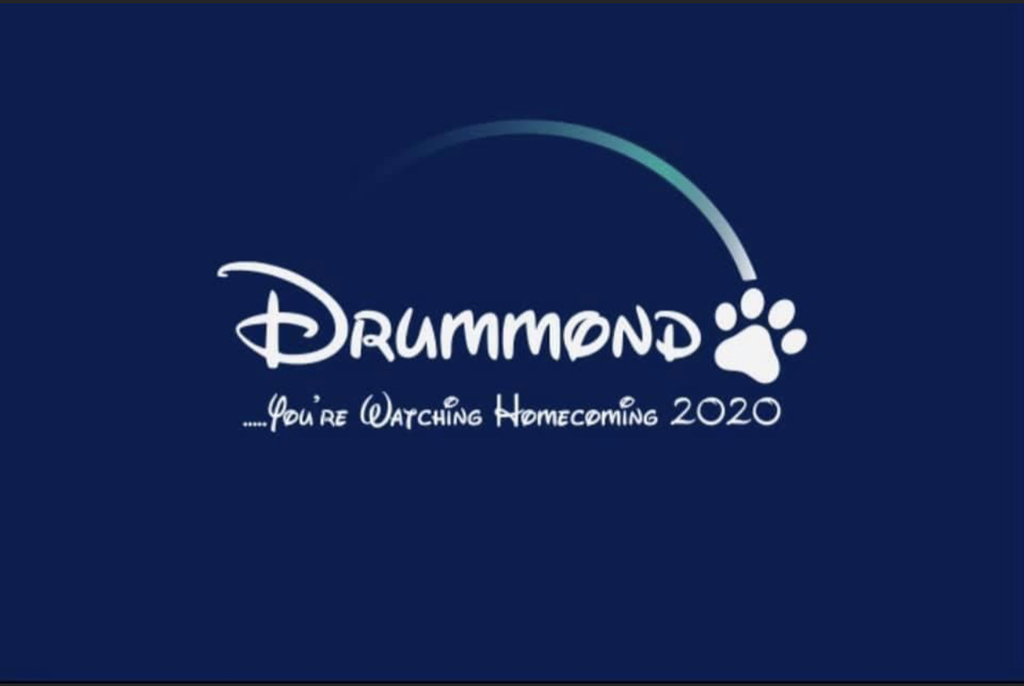 We would like to congratulate the following students for their scholastic achievements in last week's scholastic meet hosted by Fairview. Jacob Hicks - 3rd place in 6th grade Humanities Baylor Burford - 3rd place in Current Events Nathan Taylor - 1st in Social Studies, 2nd in Science, and tied for 1st in Humanities Lexi Mann - 1st in Language Arts and tied for first in Humanities Jakub Hladik - 3rd place in 8th grade Humanities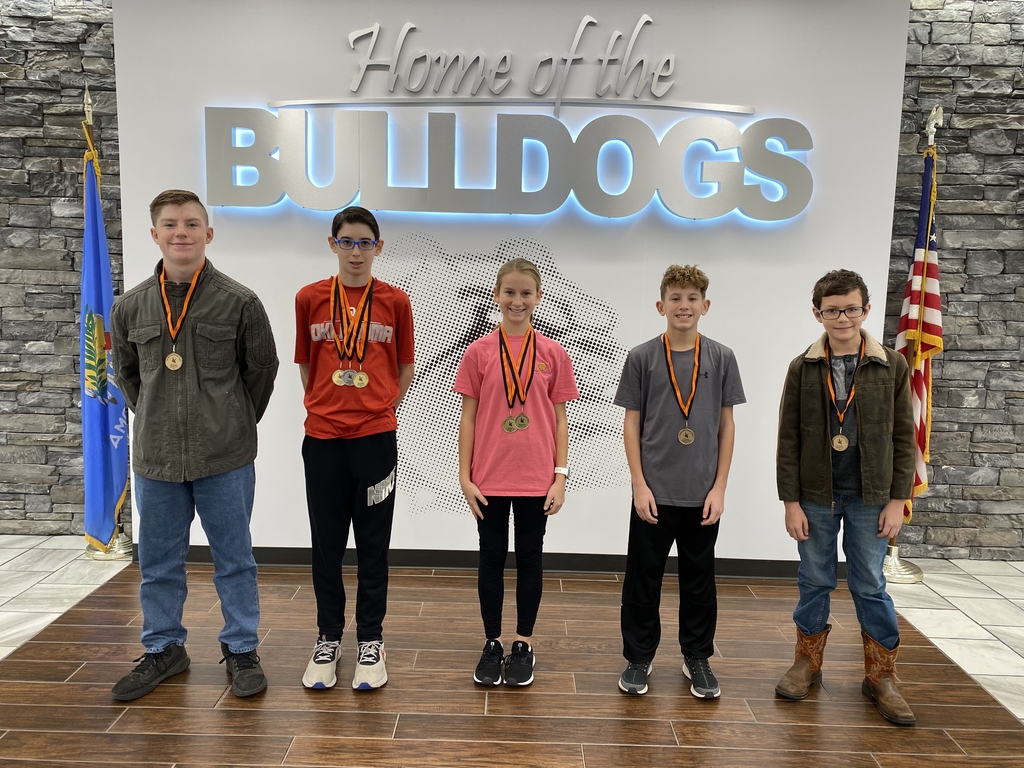 The Veterans Day assembly will be live at drummondbulldogs.tv at 12:30pm today. Due to COVID no parents are allowed to attend.

Please remember 7-12th grade students need to wear church attire to school tomorrow for the Veterans Day Assembly.

Tomorrow, November 10th, there will be a HS JV boys game at 5pm at Lomega.

Lomega JH Tournament Brackets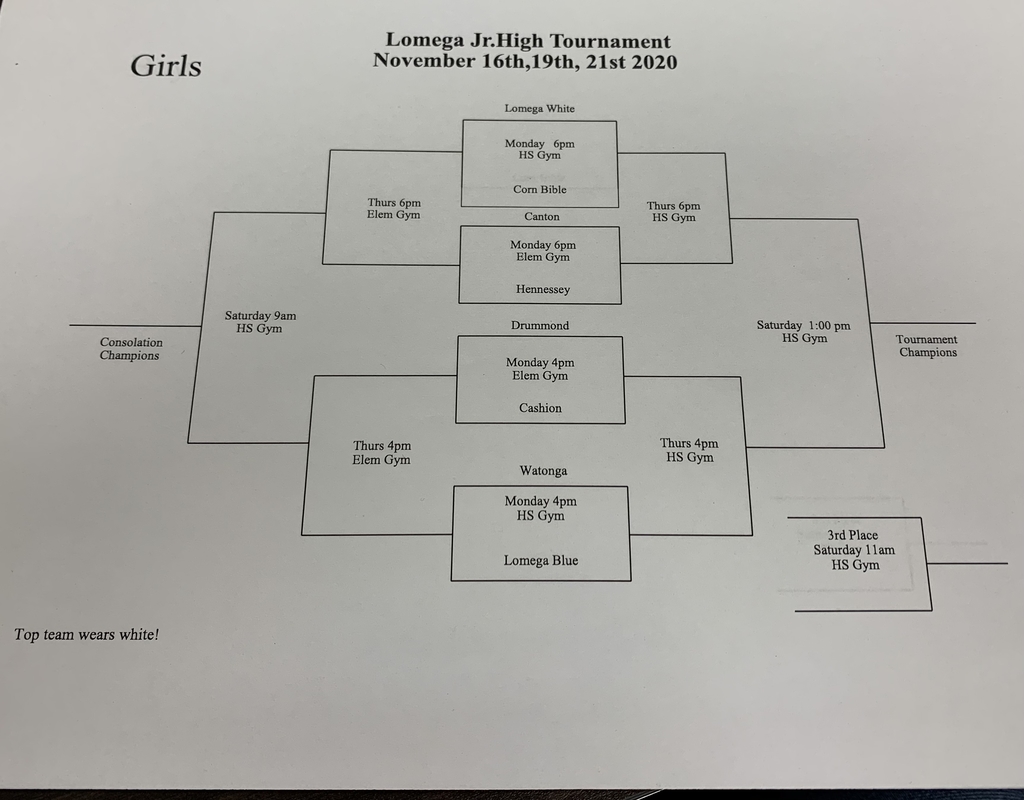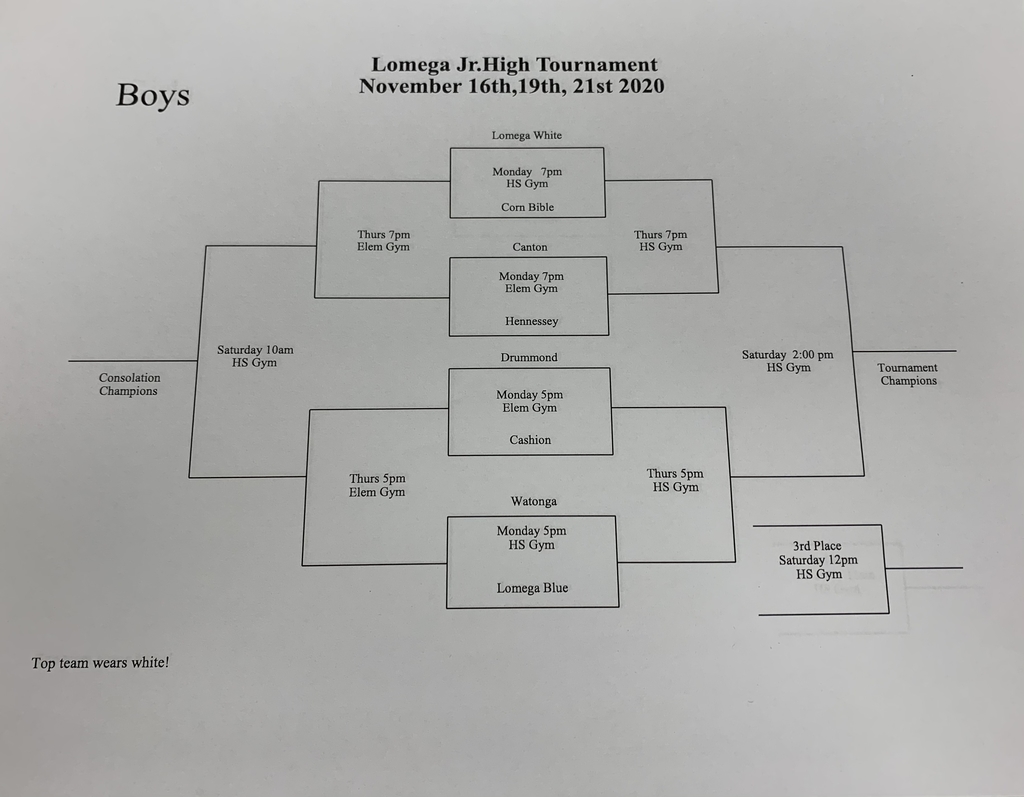 Fans traveling to Lomega on November 10th here are the COVID guidelines.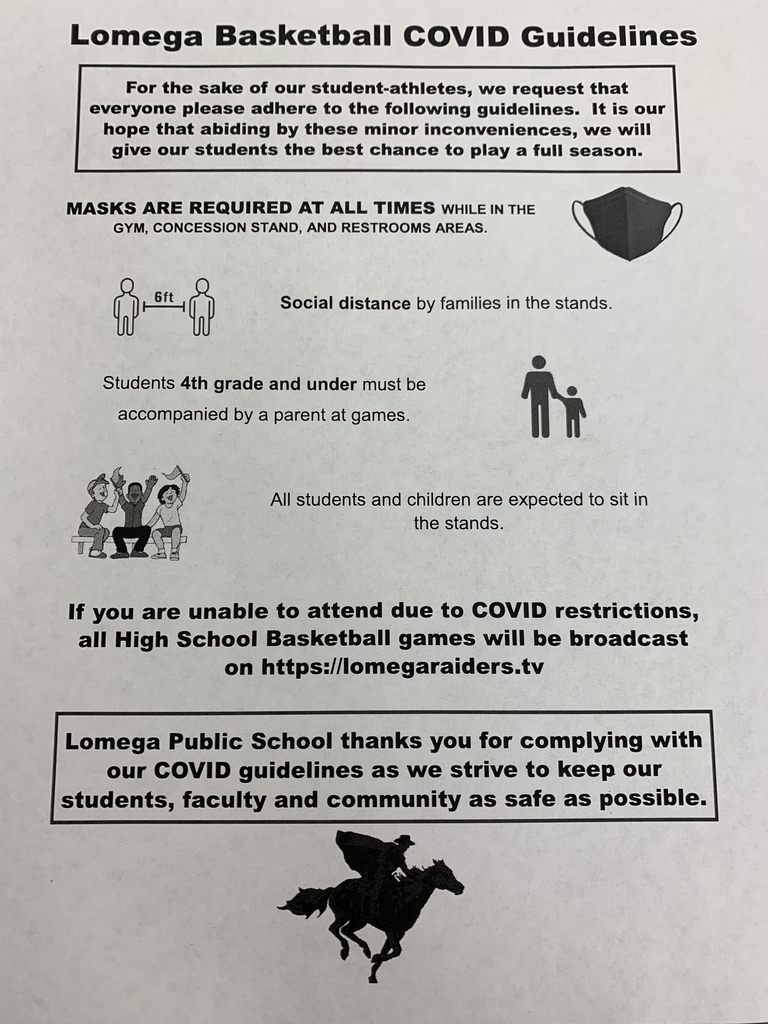 Schedule change for the 5th/6th and JH: The game scheduled for November 16th against Dover is being rescheduled and will NOT be played on November 16th.

Attention 5th/6th and JH parents traveling to Cimarron for tonight's games. Temperatures will be taken at the door. Mask must be worn in all common areas and for admittance to the games.

The high school game at Shidler scheduled for tonight (11/6) has been cancelled.

Menu changes: Thursday lunch- cheeseburgers and French fries, Friday lunch- chicken burrito bowl.

HS Basketball Game Changes: Friday, Nov 6th - 6:30pm @ Shidler - Boys play 1st Tuesday, Nov 17th - Game against Burlington cancelled Friday, Nov 20th - 6:30pm @ home vs Cimarron

Elementary and High School students participated in a mock election today! Parents feel free to quiz your elementary students to see if they can recall what they learned about voting, parties, and political symbols before casting their ballot this morning. 🗳🇺🇸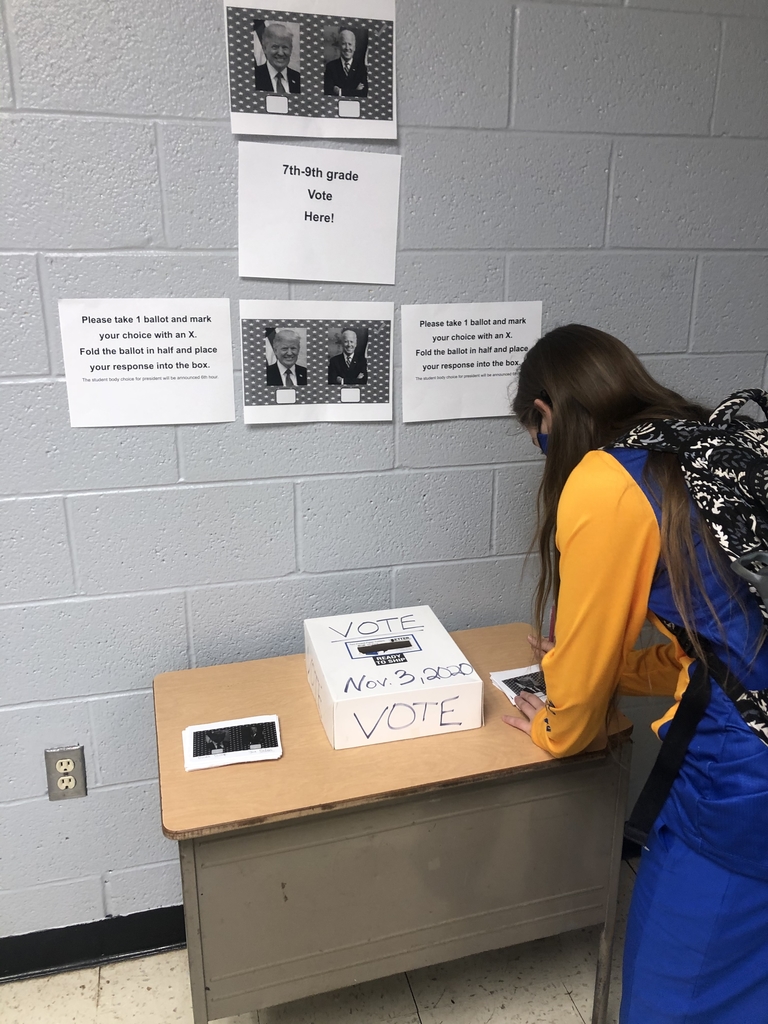 Hilldale Christian 5th/6th Basketball Tournament Bracket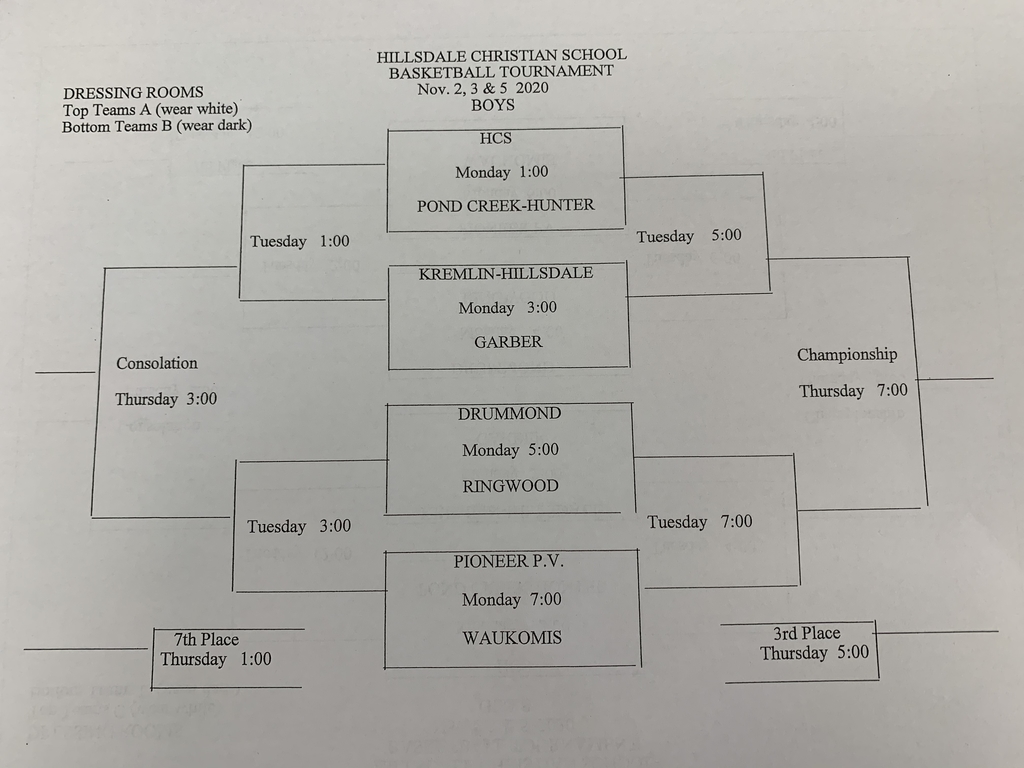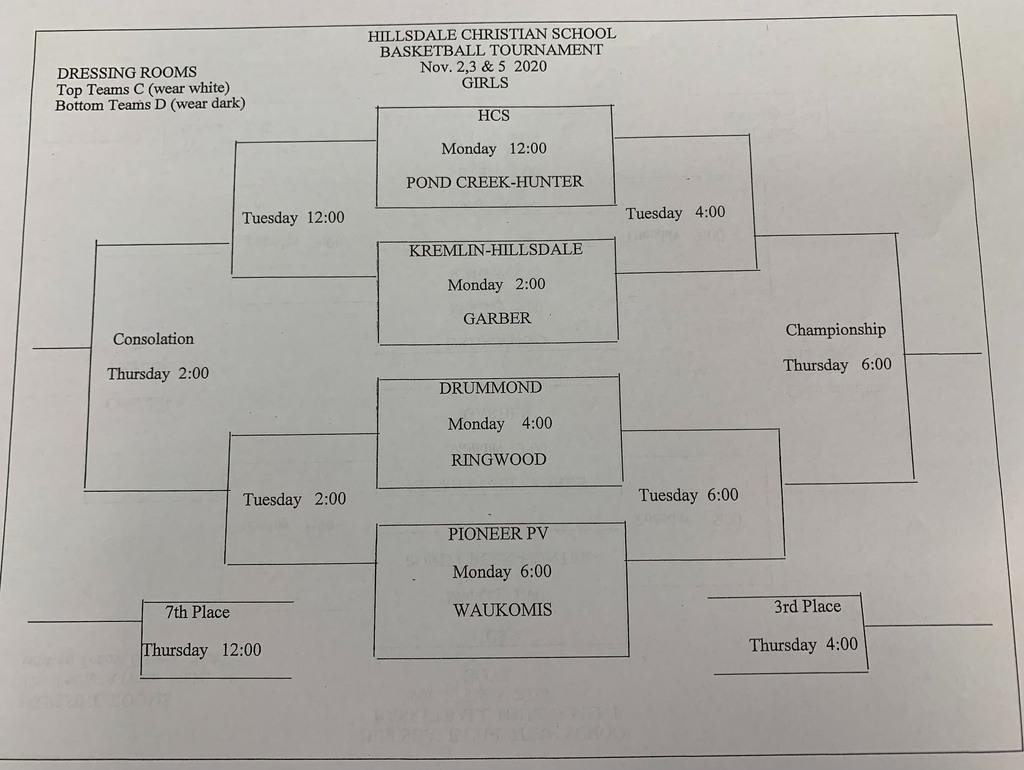 Attention high school basketball fans traveling to the MO game tomorrow night. Below are the rules for entry to the game. Temperatures will be taken at the door. Everyone must wear a properly fitting mask upon arrival and in common areas (including players) such as the lobby and bathrooms. Coaches/players will not be required to wear a mask while on the floor/bench. Masks are recommended in the stands. All Drummond patrons will need to sit behind the Drummond bench (right inside the door on the south side). Players will need to wear a mask exiting the locker room after games until seated in the stands. No one will be admitted without wearing a mask.

The JH and HS boys basketball scrimmage with Arnett scheduled for today has been cancelled.

Tomorrow's lunch will be nacho bar!!

Announcements for tomorrow, October 29th: Josten's will be delivering Letterman jackets to the students who ordered them. They will be delivered at 8am and will need to be paid in full tomorrow. JH and HS boys basketball will scrimmage Arnett at Drummond starting at 4:30pm.

Who let the dogs out? We did! No school tomorrow bulldogs! No virtual due to many without power.

Tomorrow will be a virtual learning day from home for all students. Thank you and have a great evening!